Chowmeway is the premier restaurant in Kathmandu, Nepal for all your chowmein and noodle cravings! We are where you come for a truly authentic experience of delicious flavours that will have your mouth watering. Come and indulge in our tasty options today!
Traditional Nepali Taste of Chowmein & Noodles
Chowmeway is the perfect place to experience the unique and traditional taste of Nepali noodle dishes. Our menu features a variety of chowmein and noodle options prepared using Nepal's finest ingredients. With our carefully crafted spices, flavors, and meals, you're sure to take an unforgettable journey through authentic Nepali cuisine! Come to Chowmeway today for a truly mesmerizing experience!
Premium Quality Ingredients
At Chowmeway, each dish is made using the finest quality ingredients. Our spices, herbs, and vegetables are sourced from trusted local farmers and suppliers, ensuring that each serving is rich in flavor and nutrition. From fragrant basil to perfectly cooked noodles, you'll savor all the flavors of Nepal – without compromising on taste or texture! Come try our authentic food affair today!
Authentic Dishes Prepared Freshly
Experience the delightful taste of Nepali cuisine right here at Chowmeway. Our chefs prepare all our dishes fresh daily, never compromising on quality and taste. Each serving is made to order, so you can count on a delicious meal every time. Whether you're in the mood for a classic chowmein or a unique noodle dish, we have something for everyone – no matter what your palate craves! Try us today and see why we're the best for noodles and chowmein.
Locally Sourced Produce
At Chowmeway, we believe in using fresh and locally sourced produce for all our dishes. We strive to support local farmers and food producers by sourcing all our ingredients from nearby businesses. This means that every meal you get from us is of the highest quality, bursting with flavours that are uniquely Nepali! Sink your teeth into some delicious home-cooked noodles today and experience authentic Nepali cooking like never before.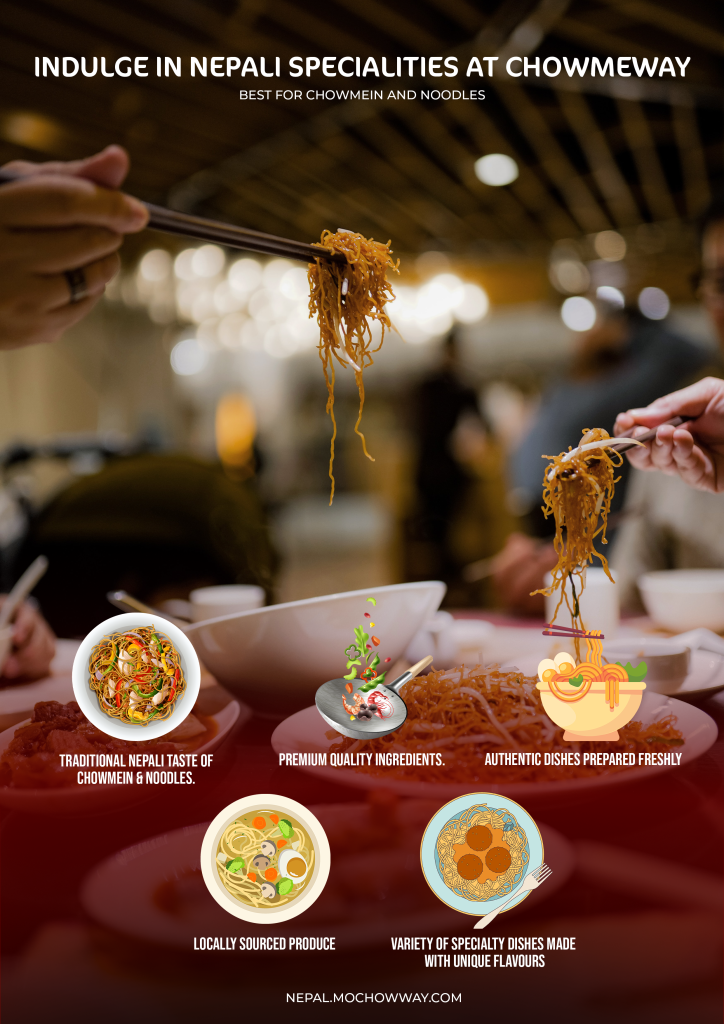 Variety of Specialty Dishes Made with Unique Flavours
Chowmeway has a wide variety of dishes on offer for everyone. From classic combos like chowmein and noodles to specialty upscale dishes, we have something for everyone. Our exciting menus feature ingredients used in Nepali cooking, which gives each dish a unique flavour that you won't find anywhere else. Every dish is cooked to perfection and prepared with love, so come by and enjoy these mouth-watering dishes today!