Momos are bite-size dumplings made with a spoonful of stuffing wrapped in dough. Momo is usually healthy and nutritious. Momos are cooked through a steaming process, though sometimes they are fried. Meat or vegetable fillings become succulent as it produces an intensively flavored seal inside the wrappers. Momo is an important dish in Kathmandu both for every day and festivals.
Momo is a convenient,flavourful and nutritious snack, appetixer and can come under a heary meal.
Are you Curious?
Let's unfold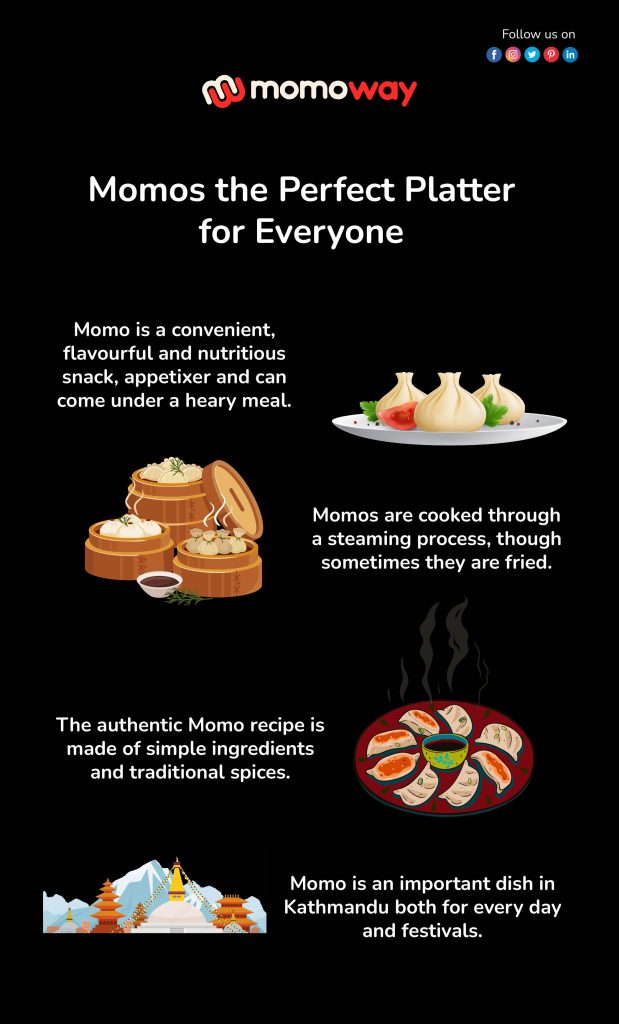 Momos Restaurant in Nepal
The authentic Momo recipe is made of simple ingredients and traditional spices. Now you can enjoy the same momos at home by ordering online. If you are at Nepal and are a die-hard fan of momos then you should try the authentic momos. Not having Momos feels like returning from the beach without dipping the feet with the entire body in the ocean. Momo is the most popular dish among Nepalese folks. It is a dish that can make the entire nation salivate at its mere thought. There is a wide variety of Momo restaurants in Nepal because it's regarded as the staple food of Nepalese culture.
Momo is a fairly experimental and practical dish that is available online near the doorstep. It has been improvised in various ways to suit the taste buds of people. Momo in Nepal is as routine as brushing the teeth. Often ordering Momo at a restaurant will be automatic, it is a food we order which is guided by instinct rather than by thoughts. Eating Momo is like a family and friendship affair but the process is very simple to cook. It is the best food and it is regarded as the party food. When we eat momo we are completely engrossed and entangled with the experience of eating.
Conclusion
Nepal mochowway is here to deliver you excellent taste in every bite. Experience a seamless ordering process with fast delivery to the doorstep. Enjoy 100% hygienic and irresistible food prepared by the restaurant. You can order hot recipes and delicious cuisine every single time.
So, go ahead and order Momos online! And enjoy the taste and experience with Nepal mochowway.
Try Nepal mochwway momos and find out the pleasure of being alive and lively.
Relish, save, and share the custom momo recipes with your friends and family!
Last but not least nothing and no one can replace the worth and value of Nepal mochowway restaurant in Nepal.Email: [email protected]