Craving some delicious momos? With Momoway, you can get all your favorite momo dishes delivered right to your doorstep in no time! From lip-smacking veg and non-veg recipes to quick and affordable prices, we offer a wide variety of flavorful options that will satisfy your hunger in the most convenient way possible.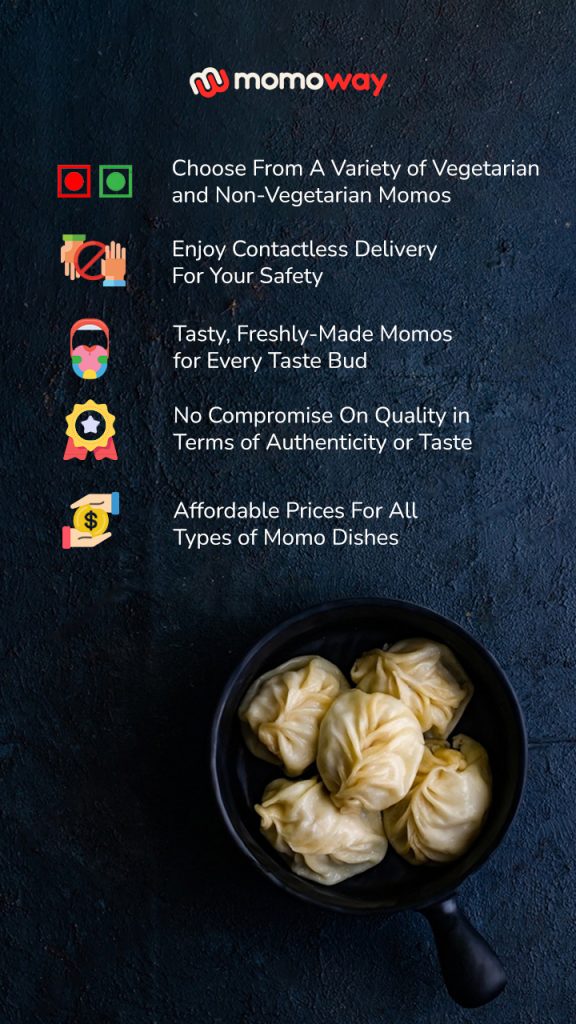 Choose From A Variety of Vegetarian and Non-Vegetarian Momos
At Momoway, momos lovers can choose from a variety of delicious vegetarian and non-vegetarian options including classic steamed momos, spicy fried momos, cheese momos and more! You'll be spoilt for choice with our delectable selection of mouth-watering recipes. Whether it's an indulgent treat or a quick snack, our momos are the perfect solution to keep you going all through the day.
Enjoy Contactless Delivery For Your Safety
To ensure convenience and safety for our customers, Momoway offers contactless delivery for all orders so you don't have to worry about the hassle of queuing outside your favorite momo spot. Enjoy quick and easy delivery with us today! You can also track your order in real time with live order tracking updates.
Tasty, Freshly-Made Momos for Every Taste Bud
With Momoway, you can enjoy freshly-made momos without having to wait in long lines. Our authentic momos are made with fresh ingredients, cooked to perfection, and served with tasty chutney for an unforgettable experience. Treat your taste buds to a range of flavors from veg, chicken, and cheese fillings, or customize your own!
No Compromise On Quality in Terms of Authenticity or Taste
At Momoway, we don't compromise even an ounce of quality when it comes to taste or authenticity. Even our customized momos will never lack in flavor, and you can be sure that you are getting the best-tasting momos with authentic recipes, every time. We guarantee a delicious experience with every momo that you order!
Affordable Prices For All Types of Momo Dishes
Whether you have a taste for the classic dumpling style momo dishes or you would prefer something more creative, we have what you are looking for at Momoway. Our prices are always affordable and competitive with other Momo specialists. You won't have to worry about paying extra for customizations either – each of our Momo dishes is priced reasonably as it is!
Treat yourself today to something yummy and get ready for an amazing experience with the tastiest momos at Momoway. The spices blend so perfectly that you'll be wanting more with every bite. Stop by Momoway today and let your taste buds do the talking!