Chowmein has never been easier to enjoy! Chowmeway is the place to find all of your favorite chowmein dishes in a variety of delicious flavors. Whether you're craving traditional Chinese cuisine or vegan options, our menu has something that will tantalize your taste buds. Order now and enjoy fresh, flavorful chowmein today!
Choose From Our Delicious Chowmein Dishes
Chowmeway is the ultimate chowmein lover's paradise with a wide array of delicious dishes to choose from! Our menu includes authentic Chinese-style chowmein as well as vegan options. We strive to provide fresh, flavorful ingredients in all of our dishes so you can enjoy a truly tasty experience. No matter what flavor profile you're craving, we have something that will satisfy your palate.
Make Fast and Easy Mobile Payments
At Chowmeway, we make ordering delicious chowmein easy and convenient. Our mobile payment system allows you to make an order in just a few taps with no need to bring cash or wait for your card to be approved! So whether you're in a hurry or don't want to deal with the hassle of traditional payment methods, our mobile payment options are there for you. Order some delicious chowmein from Chowmeway today and pay quickly and conveniently on your phone!
Enjoy Authentic Chinese Flavors
Chowmeway is the go-to source for authentic Chinese chowmein flavors! Take your taste buds on a journey to the Far East and enjoy tried-and-true Chinese recipes, including our signature Szechuan chili sauce. Fill up your plate with authentic flavors and order from our delicious selection of dishes. Chowmeway's got you covered – no matter what flavor you crave, we have it all!
Personalize Your Order to Suit Your Taste
At Chowmeway, we understand that everyone has their own unique taste buds! That's why we offer the ability to customize your order to your liking. Spice it up with extra chili sauce, or give it an extra kick with a topping of peanuts – the possibilities are endless! Enjoy delicious chowmein dishes at Chowmeway and tailor them to fit your palate.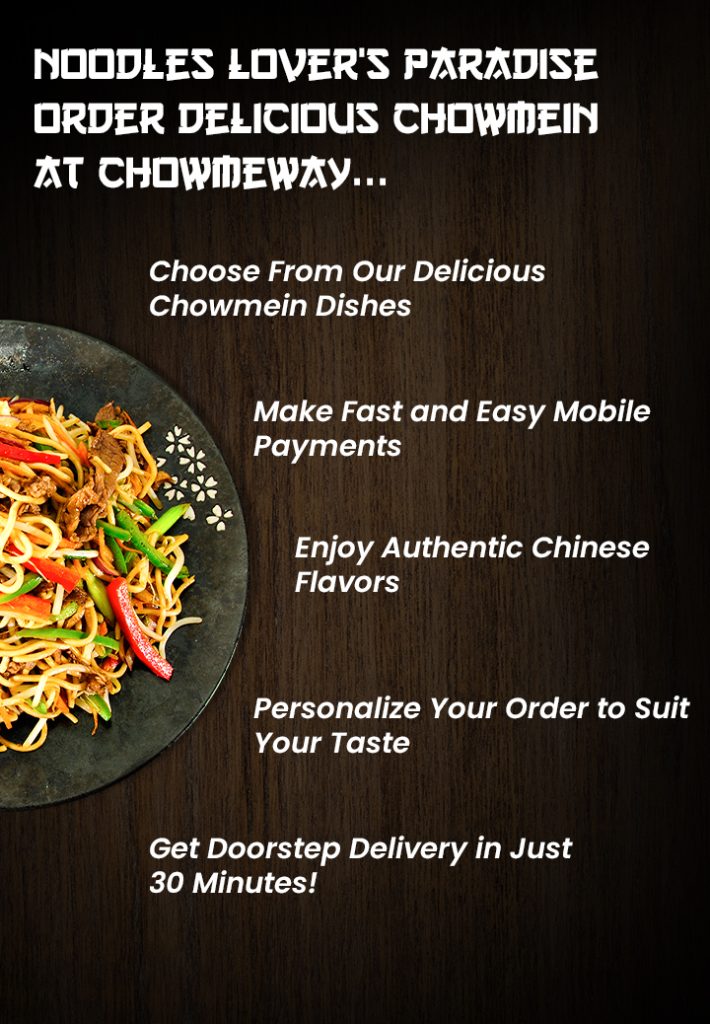 Get Doorstep Delivery in Just 30 Minutes!
At Chowmeway, we understand that quick and convenient chowmein delivery is a priority. That's why we guarantee you with doorstep delivery of your favorite chowmein dishes within just 30 minutes! All you have to do is place your order and we'll get it to you in no time! So what are you waiting for? Chomp down on some delicious chowmein from Chowmeway today!