Step into Momoway for an unforgettable experience of steamed momos with friends! Indulge in a diverse range of flavors and textures, from savory to sweet, that will tantalize your taste buds. Enjoy the unique atmosphere and have fun with your friends here at Momoway!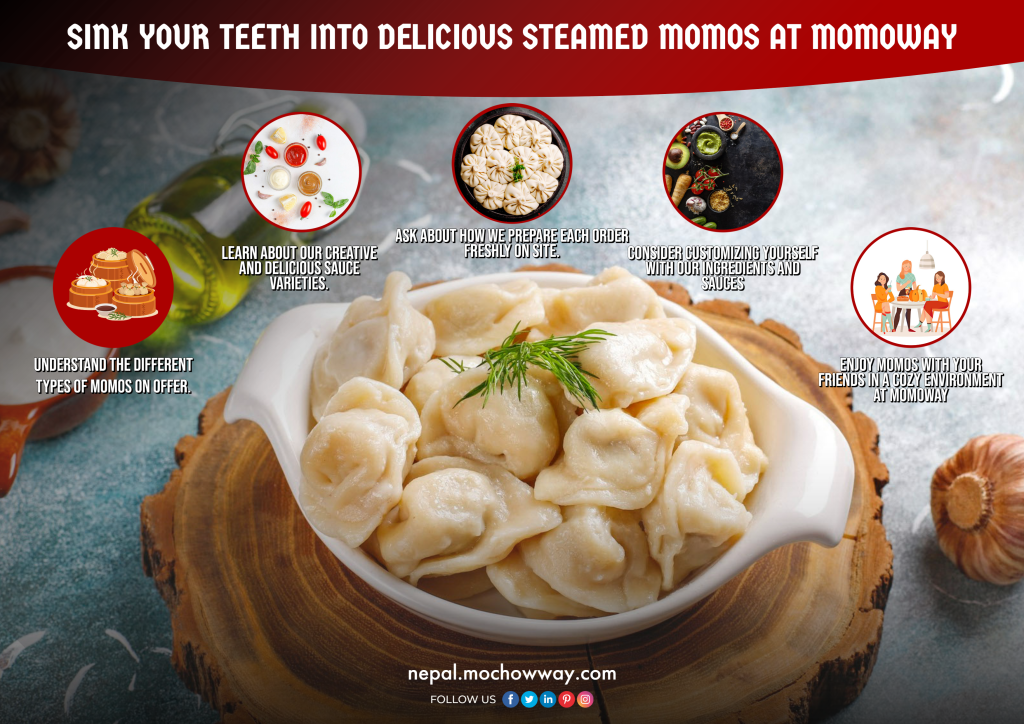 Understand the Different Types of Momos on Offer.
There's something for everyone at Momoway, with a variety of traditional Indian flavors and ingredients. To experience the full range of authentic momos, be sure to try out their classic varieties of momos. Explore the unique textures and taste these dishes have to offer!
Learn About Our Creative and Delicious Sauce Varieties.
Momoway offers a wide selection of sauces to pair with the momos, making each dish even more flavorful and enjoyable. Choose from our range of classic chutneys to go with your snack – like the popular garlic tomato and mint-coriander – and enhance every bite with sweet tamarind or zesty green chili sauce. Join us on an exploration of deliciousness!
Ask About How We Prepare Each Order Freshly on Site.
At Momoway, all our momos are freshly prepared on-site for each customer order. We use the freshest ingredients and traditional recipes to create a delicious culinary experience that leaves all our customers satisfied. Our cooking process is hygienic and FDA-approved, ensuring your enjoyment of perfectly steamed momos every single time!
Consider Customizing Yourself with Our Ingredients and Sauces
Don't just let us decide what to mix together for you. Feel free to customize your momos yourself and pick from a range of ingredients including spinach, paneer, mushrooms, potatoes, and other vegetables! For added flavor, select from our delicious sauces ranging from sweet chili to tamarind – each one sure to tantalize your taste buds. Let Momoway help you create the perfect dish for every occasion.
Enjoy Momos with Your Friends in a Cozy Environment at Momoway
Momoway has the perfect atmosphere for a cozy night out with friends and family. Enjoy steamed momos in our relaxed, chic setting and make lasting memories. Our inviting dining area is perfect for large groups, while the intimate seating offers an ideal experience for smaller gatherings. Whatever the occasion, you're sure to create lasting memories while savoring our unique momo dishes!