Tired of cooking and craving a tasty snack? Now you can enjoy the flavor of homemade fried momos right at home with just a few clicks! Order online for freshly-made vegetarian and non-vegetarian momos made with quality ingredients, delivered to your door with satisfaction guaranteed.
Choose Your Flavor – Veggie, Chicken, Cheese, or Mix and Match.
At Momoway, we offer a variety of delicious Momos to satisfy your cravings! Choose from our Veggie, Chicken, Cheese, or Mix and Match flavors for an experience you won't forget. Vegetarians can enjoy their favorite fried momo without worry as our veggie momos are prepared with the finest of ingredients. Non-vegetarians can also enjoy the classic taste of chicken momos – sure to provide an unforgettable flavor and texture profile. Try a mix-and-match option to discover a new level of culinary satisfaction! Whatever your preference is, we have something for everyone here at Momoway.
Place Your Order Securely Through Our Direct Site.
Shopping with us is convenient, safe, and secure. You can place your order securely through our direct site and enjoy the deliciousness of our momos without leaving the comfort of your home. All orders are packed quickly in a temperature-controlled environment to ensure optimal freshness. If you're not completely satisfied with your order, we offer a full money-back guarantee – so go ahead and give us a try!
Enjoy the Comfort of Door-to-Door Delivery.
Enjoy the convenience of door-to-door delivery with all orders. Our delivery staff arrives on time and discreetly delivers your order, with minimal contact from our team and you. We also provide a contactless delivery service for your safety, simply inform us before or during your order to opt for contactless delivery. All orders come in tracking-enabled packages so you can follow your order in real time and know exactly when it will arrive.
Receive Delicious Fresh-Made Momos, Fast!
Our momos are cooked to order so that you can enjoy the freshest and best-tasting fried momos possible. Our ingredients are carefully sourced so you can trust our quality. All orders are processed promptly when they arrive so that you don't have to wait. All orders come with a satisfaction guarantee – if you're unhappy with your order, we will make it right!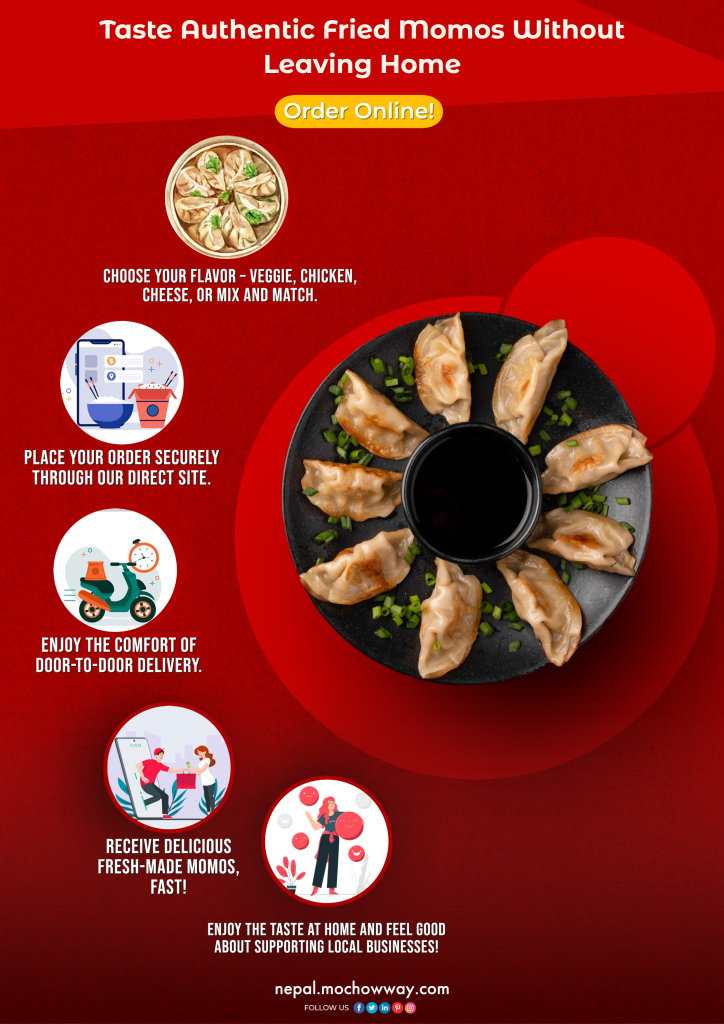 Enjoy the Taste at Home and Feel Good About Supporting Local Businesses!
Ordering our authentic fried momos online is an easy way to enjoy a tasty and convenient meal at home, plus it allows you to support local businesses. We use only fresh ingredients and source all of our ingredients from locality-driven vendors. So when you order from us, you can feel good about supporting local businesses as well as enjoying delicious fried momos made with quality ingredients.